Hop-On Hop-Off Sightseeing bus London
Hop-On Hop-Off Sightseeing bus London
Experience the highlights of London in 24/48 hours on the Original Tour. With your Hop-On Hop-Off tickets you can pick and choose all the sights and attractions you want to see as you get transported around in an iconic open red London bus. It's the easiest and best way to go sightseeing in London!

Limited Offer: From November 1, 2016, you will get an extra 24 hours ticket validity until March 3, 2017. All tickets will also include a FREE River Cruise Pass to historic Greenwich.

Highlights:
- Experience the highlights of London in 24 hours/48 hours
- Choose what to see and when with four lines and over 90 stops
- Ride around in one of the iconic red London buses
- Live guides or audio guides on all the buses
- Price includes a sightseeing boat tour on the Thames

Experience London in 24 hours/48 hours
The concept is simple: Hop on a bus and go explore London. You decide when to get off, and when you have seen enough, you just get on the next bus.

With four bus lines and over 90 stops, you can cover nearly all of London in your on speed. On all the buses either live guides or audio guides available to tell you about the city and its sights.

The Original Tour includes a sightseeing boat tour down The Thames. The boat sails between Westminster and Greenwich on a regular basis. (Please ask a representative from The Original Tour for your boat ticket when you get your tour tickets at one of The Original Tour's exchange points).

How does it work?
When you book your tickets, choose the date you arrive in London as the 'Valid from' date. Your tickets will be valid one month from the 'Valid from' date.

Choose number of tickets and click on 'Search'. Then you choose the number of adult or children's tickets you need. Children's tickets are only available together with adult tickets. Then you choose if you like to add tickets to other attractions or transportation in London to your purchase.

How do I get my tickets?
Shortly after your booking is complete your e-ticket will be send directly to your email, just print it out and bring it to London.

Once in London, you'll need to exchange your e-tickets to your tour tickets. You can do so at any bus stop or or directly at the bus driver. You can also go to one of the major departure points if you need assistance or have questions, as The Original Tour always have staff there who can assist you better than the bus drivers.

The major departure points are:
1) The Original Tour Visitor Centre in Trafalgar Square: 17 to 19 Cockspur Street
2) Marble Arch: At Subway Exit 3
3) Piccadilly Circus: On Whitcomb Street
4) Victoria: Outside of The Grosvenor Hotel
Please remember that the person who has booked the tickets needs to bring a picture ID (e.g. passport) when you exchange your tickets at The Original Tour and get your tour tickets.
Where does the tour begin?
You just hop on a bus after you have exchanged your tickets. The buses run from the same locations as the exchange points.

How long does the tour last?
Your Hop-On Hop-Off tickets are valid for 24 hours or 48 hours.
Are there children's tickets?
Yes, children's tickets are available for children between age 5-15. Children from age 0-4 are free, when accompanied by a paying adult. Children's tickets are only available together with adult tickets.
Very Good
4.0
Result from 1 customer reviews
The original Tour
This was a very comfortable way to see the sights of London. I am so thankful my friend recommended it. There are so many sites to see that I am glad I only bought one optional tour on the London eye. I almost purchased a tour for the Big Ben Clocktower. However I would not have had time for that one also. In March 2013 the changing of the guard at Buckingham palace is on even days at 11:30. Boy what a crowd. If you want a good view you should be there early and I read that the best of view is from the statue across the road. By the time I went down to Buckingham palace for the changing of the guard and then took the ride on the London Eye, walked around the Parliament buildings and West Minister Abby and took the boat cruise on the river I was pretty well done. Then it was nice to ride the bus and see the other sights of the town.

The arrangements were very easy to make both online and on the street. The buses were very comfortable but the best view is on top. It can be pretty cold up there but there are some covered seats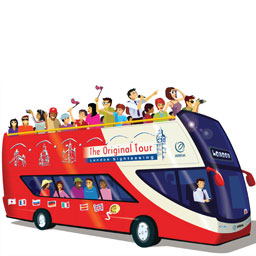 Info
Hop-On Hop-Off Sightseeing bus London
Address
Click here for route map


View map
Opening hours
First tour is at 8:30 and last tour is at 20:00 (17:00 in the winter)