Buckingham Palace
BUCKINGHAM PALACE Book your tickets to Buckingham Palace and get a rare insight into how the Queen lives. Book tickets to Buckingham Palace in London here!

Buckingham Palace serves as both the office and residence of Her Majesty the Queen and is one of the few remaining working palaces in the world today. When the Queen makes her annual visit to Scotland during August and September, the Palace opens for visitors!

You will get a lively insight into what goes on behind the big gates. This includes a display of the traditional robes, gifts, uniforms, dresses and jewellery as well as an exhibition that illustrates the tradition and ceremony of "The State Opening of Parliament", and "The historic Garter Day" at Windsor Castle as well as traditional garden parties and state visits. You will also gain access to both photographic and film archives.

-NB:
Tickets are ONLY valid on selected dates.

-The tickets are sent to your e-mail address immediately after you have completed your booking and your payment has been approved. Duration: 2-2.5 hours Schedule: Every day at 1:45pm only. Please arrive at least 15 minutes before.

Children: Free of charge for children less than 5 years of age.

Important: As Buckingham Palace is a "lived in" Palace, close outs may occur. If this happens, you will be notified at the soonest possible instance.

6
Fantastic
4.8
Reviews from 6 customer reviews
Buckingham Palace - well worth a visit
So glad we booked online before our trip. It just saved any hassles and standing in lines for hours. Buckingham Palace is a must to put on your agenda. With so much history and WOW factor we thoroughly enjoyed the visit. Must DO!!
I am Titleless
We had a lovely and comprehensive tour of the first two floors of an area of Buckingham Palace. The audio tapes gave us helpful reviews of the paintings and the rooms we were seeing and the pace was quite acceptable. The lines from pre tour to the finish moved along very well. Very well organized. Gift shop at the end was fun.
What a privilege
Buckingham palace tour was a fascinating peek at the life of a royal, the vast history of the palace, and the pageantry of the monarchy.
Thank you for this fantastic opportunity
Visit to Buckingham Palace
The opulence of the Palace was breath taking, a once in a lifetime chance to see, gowns ,jewel, and to look through some of the apartments
Karen Adams
Loved it! Although it was shorter than we expected and not as many rooms as we expected the state rooms were immaculate and stunning and just as we imagined them to be!! definitely worth a visit and worth prebooking!!
Mrs Julie Schmidt
Our visit to Buckingham Palace was something we will not forget. Very well organised and ample time to take every detail in. Only problem was we had asked to visit the gardens and received an email back to tell us to check when we arrived in London, but it was then too late and should have been booked online at the same time as the visit to the interior of the Palace.
Buckingham Palace customer comments
On request Tickets

Our local supplier needs to confirm availability for this performance. This should not take more than 24 hours
Read more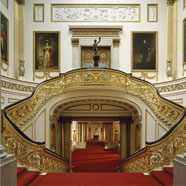 Info
Buckingham Palace
Address
Buckingham Palace 13 Buckingham Palace Road Westminster, London SW1W0PP


View map
Opening hours
Every day at 1:45pm between Aug. and Sep. 2013 Be at the entrance latest 1:30pm
Metro
Take the metro to St. James Park
Buslines
11, 211, C1 and C10 stop on Buckingham Palace Road